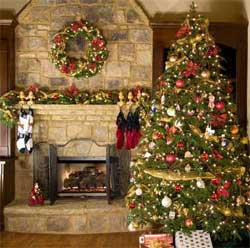 I'm here at work, having just watched Nightmare Before Christmas (Yes, it IS a Christmas movie - it says so right in the title) and am feeling all Christmasy.

So I'm listening to
Nightmare Revisited
. Specifically,
Town Meeting Song
by The Polyphonic Spree. Freaking rad.
Here
.
I'm a lot more exctied for Christmas this year than I usually am. It's not that I'm not ever un-excited. But this year I've been tearing my hair out waiting for it. I want it now.
Sure, I want my presents. And sure, I want to see how excited some people are when they see what I got them. But aside from that, I'm just really feeling it this year. I started (willingly) listening to Christmas music long before Thanksgiving and didn't want to hurt any small creatures. Wifey and I sang together in the car on the way to her parents' a couple weeks ago. And it was GREAT!
I don't know what's changed. I'm thinking it might be that there's a good chance of me being away next year. Yes, I've been away once before, but this time around, it's going to be different. I have Wifey to miss. She wasn't around last time. Shoot, she was still in HIGH SCHOOL last time. Haha.
I'm looking forward to spending some good quality ('cause it definitely won't be quantity) time with my family tomorrow. I'm getting off work at midnight and Wifey has to be back for work 24 hours later.
I wish everyone the Merriest of Christmases. And Happiest of Hannukahs (yes, even though it's over, I hope it was lovely). And Kwaziest of Kwanaas.
That is all.
PS: If I offended you with that last line, here's what I want you to do. Close your browser window and don't read this again. The end. It's that easy.
PPS: Yeah...I knew I couldn't keep my cynicism out of this for long :P